Greg Murat (mur-rah)
Singer-Songwriter Guitarist
Home Shows Bio Music Lyrics Poetry Video Audio
Journal December 2004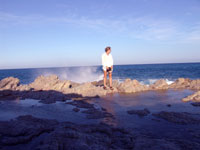 Happy birthday Dale! We love you!
December 30, 2004
I heard from Sharon & Clay in Chicago, our friends we met in Cabo San Lucas. It is good to hear from friends and there are those people you meet in your life who are instant old and cherished friends. I am grateful to the people who take the time to read the poems and journal entries. I hope it is more in number than the number of emails we get. I plan on making some changes to the site in the new year and possibly taking down some pages like the CD page. It isn't generating any interest or sales to date so I think we will go with a different approach in the new year.
We will have a new addition to our household this summer: a new baby. It is not something I would have ever thought would happen and I am still processes the information. I am grateful a new life has a chance to walk the planet and strive to find their way back home. Stormy seas have descended on our shores and I hope the weather will clear soon so there is a place of tranquility when the new tiny person arrives. I am sure there will be however it occurs and whatever it takes. Who knows what lies ahead?
I was up till midnight in the studio with the assistance of Rob Peebler as engineer and we are finally approaching finishing one song. It was really fun to record with Rob because he brought up a stunning mix and it is a true inspiration to sing when the band sounds really good. Mike Daily was over for several hours and he and Jimmy did some harmonies and so did I. The next two days I plan to really go after the vocals and make them tell the story that is lying waiting in the lyrics. Thanks for your time and I hope the new year makes love is kind a true statement.
.
December 29, 2004
Andie listens to the news and says, "It's happening." She is referring to all the things predicted so many years ago in the Bible, wars, rumors of wars, earthquakes, floods and all the other natural disasters and all that signifies the end times. Whatever your beliefs, there is a great deal of strife and suffering in the world. The latest events resulting from the tsunamis is beyond our comprehension. It really makes the day to day seem trivial when you think about the losses people have incurred over the last few days since Christmas. I know that part of the struggle with the blues that I have at this time is over the state of the world and especially the conflict in Iraq. I have empathy for the people who live their and our men and women in harms way who are serving in whatever capacity. It dredges up the feelings from Viet Nam and weighs heavy on my heart every single day. I speak of it almost not at all, but I feel it in my bones. Lord have mercy. I think life is very precious and so easy to take for granted. Each day that passes leaves me grateful for the chance to live on this planet for a time, although I will be so ready to leave when my time is done. Peace.
December 28, 2004
The essence of pain is a powerful thing. Pain in the the back, pain in the neck, pain wherever tends to dominate the thoughts in your head. I don't mind pain but muscle spasms are somewhat like electrical shocks and tend to immobilize a person. So I am feeling nonfunctional today. I am going to work and rest at the same time. I had a flat tire this morning and I don't mean the beer. It is a low back pain day but we were on the Washington coast Sunday morning and thank God no tsunami hit our shores. God bless the people in the world suffering from that terrible devastation. I heard it was two to five minutes from start to finish. Lives were over and or forever altered in those moments. One never knows what the future holds. One never knows.
December 26, 2004
We have weathered another Christmas. It has been a somewhat strange season with many people saying the spirit passed them by. It is always a warm and comfortable time at our house with family and friends. Faith and Andie cooked a wonderful prime rib dinner. Josh and Christina came from Oregon. Liz and I completed the roster of people present. It was a small gathering for our clan. Chani is quite sick with the flu and in Fairbanks Alaska. She called and seems to be doing well except for the illness. Freedom called from Nebraska where he is visiting and said is was freezing but good. We spent Christmas evening with Sarah and had a peaceful time. Hot tubbed at night and in the morning. It was just fine all in all.
Musically speaking things are going well I think I will talk about that more in the newsletter but I made some hardware changes and Silent T is humming along for the first time ever with out any glitches. I am working on the vocals for the new CD's. Mike Daily has put in a cazillion hours at the console at Studio 04 and we are fast approaching time for mixing.
I talked to my sister Maria, who is also sick and that was good. She gave me some free medical advise on my back, which is flaring up again from when I fell and broke a vertebrae. It is not my favorite. Who likes pain. I told Andie that God really blesses me because even though I may need a crane to get up and sit down and the pain is so bad I can hardly move, it stops when I am playing an singing. Of course, then it returns, but I wouldn't be able to play without that interlude, so thanks God. That is my story and I am sticking to it.
December 24, 2004
Merry Christmas. I said Merry Christmas, not happy holidays. Merry Christmas!
I got the most wonderful surprise this morning. I was speaking Whinese to Andie. "Nobody ever calls us. We don't have any friends." The phone rang and it was our very dear friend Bill McDaniel. He was in the spirit and hilarious and what a joy it was to talk to him. We go way back to the days of the Banana Brothers. It was not really a surprise that he called after the statement I had made to Andie. Bill and I have a special connection. I remember a time sitting in the Leopold Hotel in Bellingham after a gig. We were sitting around I was playing the guitar and we were all singing. I sang a song called Wasn't It A Time that I had just written. Bill sang harmony on the chorus and said "I love that song, how long have you been playing it?" I said, "I just wrote it." He knew the words and sang the harmony although he had never heard it before. That is the magic of life and one of the moments I will always cherish. We talked about the love and joy we have in our families and how we are both very blessed that way. He invited us down to San Diego and we are going to plan a trip there early in the new year. By the way, I was just kidding about not having any friends. We have the best friends in the world. God bless us every one. Have a very Merry Christmas, it is the happy holiday when we celebrate the birth of Christ. E-mail Us
December 22, 2004
There's not much to say today and too much to do. I may have to take a break for a bit. I am running on a low tank of fuel. It is Christmas in just a couple of days and more than any other season in my memory I have been oblivious to its coming. I don't really know why. But Merry Christmas and Happy New Year to you all. It is the season for drawing near to the ones we love. May yours be lovely and bring peace in the coming year.
I left the studio last night very early, about 8:30 with Ronnie, Jimmy and Mike working away. I just felt spent. We are making great progress and Mike is quite the task master and keeps us on track. I think I just need a little rest and relaxation to recoup my strength so I can bring some energy into the project. I will get there. So many people have been pouring their hearts into this recording. I am humbled and thankful. I just heard one of Scott MacGougan's tracks for the first time last night. He rocks. So once again Happy holidays until next time. God Bless.