Cabo Cam
March 23. 2005

It is another fine spring day, the day Chani was born more than two weeks ago. She is doing great in Alaska and should have her own website up in the next few days. All this time passes. I heard some one talking about research on stars and that in only 10 years they will be able to take a picture of this planet they are studying. "Ten years will pass quickly", he said. Ain't it the truth. It will pass quickly. I know at times it seems like time stands still but we are moving through it fast. Children having children and before you know it you are a grand parent. I love my children very much and I am proud of each of them for the unique individuals they are. On this day I am reminded how very fortunate I am. Chani has her own distinct style and artistic talent and I know the world will come to know her name and recognize that talent. On her day I celebrate the fact that she is here and I got the chance to be her dad. I am blessed by each of my children in different ways but mostly by love. I got lucky I guess.
Aim above morality. Be not simply good, be good for something. Henry David Thoreau
March 22. 2005

I got a lovely e-mail from Sharon in Chicago yesterday. Happy Anniversary Sharon & Clay. She is such a good writer it is always a joy to hear from her. It is good to share stories about life, kids and friends. Friends are such a precious thing.
Have you ever had someone tell you that someone you consider a friend is saying things that aren't very nice or are even disrespectful and degrading about you. When that happens in a situation where you introduced these people and were trying to help them become friends, it is baffling. How do you deal with that when the person asks you not to say anything to your friend about it? "I just wanted to make you aware." They say. Okay, now what? You look at your friend in a puzzled way that is a mixture of disappointment and sadness. You pretend there is no loss of faith and there is nothing wrong. Be polite. Andie and I make being human a full time practice and it helps us a lot in all situations. Being human and allowing others the same blessing is a great source of peace in day to day living. I have often told my children that sometimes people need to vent and get things off their chests to help clear their vision. What they say is not meant for your ears. So don't take it too personally if someone decides to share what they heard someone else say about you. Let it go. It is when someone attempts to push you down with words in order to use you as a stepping stone that you need to pay attention and reevaluate your relationship. I am blessed with many very true friends and I am so thankful for their love and support. There is little we wouldn't do for each other. Thank God for having real friends and for getting the chance to be one.
If you can't say anything nice, don't say anything at all. Thumper's dad
March 21. 2005


If you just pay attention, your children will give you clues as to who they will be when they are grown. Chani always had a flare for the artistic, but when I came across this early picture of her I had to laugh. Look how happy she looks with all those head ornaments. Those are little clip on ear rings attached all over her ears and face. It is the same today only without the clips. Thank God we are all unique in our own special ways. I think, as a parent, one of the most difficult things to do is let go and let your children be who they are. I also think that the bottom line, before and after our human expectations, is that we want them to be happy: to have peace. That is something we all need. As the years pass I am not sure if it gets easier or harder. Every day is different. We all live our own lives and that takes up most of our time and energy. If we take the time we can reach a new level of relationship with our grown kids . One thing does not change however, and that is the desire to spare them pain, to protect them from life. It is the on going (for me anyway) challenge of letting that desire go. Life is what it is. It is all of it, good and bad. Like my friend John Matthews once said to me, "Life." That sums it up. It is different for each of us yet, in many ways the same. Take each step and face each challenge. Reach out to the ones you love. Give and ask forgiveness. Be true to your word. Have faith. Know some days are going to be better than others and always carry on.

March 20. 2005
Manolito Fuentes called me yesterday to say he is on the mend. He even wanted to come over and play last night but he said he was tired. It is hard to believe 4 weeks have passed since his operation. He said he may be up for a trip to the studio this week. We had a great weekend and the music was so wonderful I can hardly find the words. We have the folding band. Delivery Boys, Bananas, Raynor, Penguins, all these members of different groups that fold into each other and really make for a great evening of music. I think I will pursue booking some concerts with as much of the crew as we can. Andie was shooting pictures and being miss social butterfly. I looked around the room and thought, well, my wife is pretty much responsible for this crowd since she called and invited nearly everyone who was there. Our friends Jason and Blu came in and Jason brought Andie some silks from his resent trip to India. It was great to have that band last night, percussion, leads, harmonies. My face is once again sore from smiling. I wish we could catch some of these shows on film so we could put it on the web site and some of our out of state and out of country friends could see the show as well. We will in time. Thank all of you who came to the show. On a break I played the new Freedom CD and people went nuts they loved it so much. I pointed out Josh's guitar work at the end of Angel. Papa, Josh and Freedom all played on the last song of the CD. I am proud of my sons and daughters.
It is back to the studio for me.

March 19. 2005
On this day in 1918 Congress approved Daylight Savings Time so that we could make better use of daylight. Unfortunately, it did not come with a guide book on time management. There are those of us Lunar gazers that feel DST cuts down on the time we have for admiring the moon. Farm animals, especially chickens, are not proponents of the practice of changing clocks either. Apparently it reeks havoc on their laying schedules. What are you going to do? There are those of us who think sleeping is some what over rated and avoid it as much as possible. This practice has some adverse affects on one's memory. I don't like the time change because it is one more thing to remember. Memory loss seems to run in direct ratio to sleep depravation. I have long been opposed to DST, but I found some interesting benefits to the variance in the actual time it is implemented around the world. In the Middle East a DST difference between two countries lead to some would be bus bombers blowing themselves up instead of their intended victims. They failed to adjust the timers to the hour difference due to Daylight Savings Time and so their bombs went off an hour early. They were victims of their own madness. That was an obvious benefit. I am glad my endeavors are just keeping appointments, working in the studio and around the house and doing a little history research now and then. However you feel about it, daylight savings time is coming on April 3rd. Now is that clock forward or back?
March 18, 2005
Twice in a week I have heard of friends whose wives have said they do not want to be married any more. I stutter when I think about the shock that must be for either a husband or a wife; for any person. I am developing this somewhat frightening theory that marital foundations can often crumble at the 15 year mark. It is true in three cases and I am not sure what it means. I sometimes think it must take 15 years of finite patience to process some wrongs or misgivings. I have pointed out to my sons that although some women may be long suffering while they wait for a man to remove his head from his behind, when they are done, they are usually really done. There is no turning back. Perhaps they have been waving warning flags for years and men are too busy or blind to see. Perhaps it is just the Venus and Mars thing and we are just clueless. I know there are times of bewilderment when you just cannot understand the reasoning of someone else. I think prior to the terminal 15 year point, we make up our minds to compromise with and care for each other. There must be a silent tab ticking away that many of us are unaware of and then "suddenly" we get our walking papers. I hope to not see that day with Andie. I really do. My heart goes out to those who are going through such a time.

March 17, 2005
Happy St. Patrick's Day to everyone. This is the day that Patrick passed away after many years of faithful service in Ireland. I never knew that St. Patrick was actually from Great Britain. I was reading about the Celts and their slavery enterprises and how at 16 years of age Patrick was captured in England and came to Ireland as a slave. Six years alone on a mountain top with only sheep and God to talk to changed his life forever. Talk about how bad things can be turned to good. Patrick transcended from being a slave to ministering to the people and country who took him captive. I had also never heard of the legend that St. Patrick banished all the snakes from Ireland either. I would like to hear the tale of just how that took place. I think of my mother extra specially on this day and her strong spirit that was not unlike that of Patrick. Celebrate life today and every day.
March 16, 2005
Josh spoke to his brother Freedom yesterday and told me that his trip home to Sedona was safe. I just really enjoyed this last visit a lot. Jimmy Culler and I sat up way too late last night and discussed music, the CD project and life. We did a little bit of listening but mostly we just talked. It was a good thing. But I can't seem to wake up this morning and I am not sure I recall the solution to the world's woes that we came up with last night. I have spent much of this week listening to one of Freedom's CD's and the music is so much better for the soul than listening to the radio. It is good to talk with friends. Sometimes the sound of our own voice expressing concerns is all we need to ease those burdens or cast aside cares that trouble us if left unspoken.
Know the true value of time; snatch, seize, and enjoy every moment of it. Lord Chesterfield

March 15, 2005
It was a software struggling kind of day and quite a contrast to the fine feast we attended with the Freedom clan last night.
Brotherhood and Calm prepared the whole dinner and it was marvelous. This is a large circle of family and friends and it is always nice to be a part of their gatherings. Last night we didn't make it to the point that the music started, but Josh said it was fun. Rob has a great set up for recording and they will be making lots of music there. Liz & Andie went to baby classes tonight. I'm holding the little dog and typing with one hand. This is the "two shows a day" weekend. It seems like when you are busy even more challenges appear. That is the case now. Too little to do, and so much time. Scratch that. Reverse it.

March 14, 2005
Last night was just simply the best ever. Andie and I went out to see Freedom and Josh and the boys play at the Jet Deck. Mike, April, and Christopher made the trip and paid the cover like us. It was a very late start but worth the wait in the end. They played great! It was fun to be out with Andie and watching the boys play. Josh had such a beautiful smile on his face as did Freedom. It is profound to listen and watch the band interact. Jim loves his work. When he is playing drums he is in that magic place called Right Where I Am Supposed To Be. Rob and Freedom have a synergy and this spiritual connection between the two of them that is almost tangible.
Rejoice Israel started the evening with a Bonnie Raitt tune and a few songs of her own. Josh, from Flow Motion, did an amazing solo acoustic set that was one of the finest performances I have ever seen. Genevive played violin and Ammishaddai played flute and they wove lyrical counter melodies over, under, around and through the songs. We stayed almost till closing. Between kisses and hugs, Andie and I both sat in awe of our boys as they played together. Freedom invited me up to sing the Paul Simon tune, Slip Sliding Away and we traded off singing the melody. Freedom then requested Love Is Kind and I called up Josh. I was one very happy papa sitting in the midst of two wonderful poet song writers that just happen to be my sons. It doesn't seem like that long ago that Josh would not have gotten on stage for any reason. Now he looks right at home. Freedom is a seasoned performer. My face really does hurt from smiling so much. It is difficult to express the peaceful bliss that comes from seeing those young men making music together and basking in the joy of it all. The evening is tucked into my medicine bag with other happy thoughts. The memory of last night will bring some son sun to many a rainy day in the future.
Adopting the right attitude can convert a negative stress into a positive one. Hans Selye.

March 12, 2005
I am listening to the sound of the guns at the firing range. After all these years it still makes me feel strange. Hey, reminds me of a song. The house is asleep still. I am just making a brief entry since Sara has sent me a task list for making recordings of about 30 songs. The list is very organized and a bit daunting. It also seems like exactly what I need to make some progress as a song writer.
Weekends seem like time to lay low, and yet there is always so much wanting to be done. There is nothing like an early start in the studio to get a lot of things done. The hours just slip away splashing in the joy of making music. Speaking of making music, Freedom is playing at the Jet Deck on Sunday night along with members of Flow Motion and other bands. It is nonsmoking for the evening. There is a $7 cover at the door. Have fun.
March 11, 2005
Another Friday and a shift to performance mode. Time to venture out into the public once again and play and sing my songs while people dine on fine French food. I want to make some changes by taking some time to enjoy that food myself, at least once in a while. The day to day pace is so relentless in our country. I think that the other two thirds of the world has it right. Take a nap in the afternoon, a siesta, and then set out to conquer the rest of the day. I think if we could some how come to terms with the intelligence of slowing down it would do wonders to improve the quality of life here in America. We are taught from the beginning that we are the best and we know the best. I think we are missing the boat with the length of our work days, the size of our vacations and the absence of the practice and appreciation of napping. Speaking of napping, I think I will take one now. Freedom is playing at the Jet Deck at w Field in Everett on Sunday night March 13.
Courage is the art of being the only one who knows you're scared to death. Earl Wilson
March 10, 2005
Some things that can be counted don't count. And some things that count can't be counted. I believe Albert Einstein said that. It is true that there is no real way to measure the things that are truly valuable in our lives. The people and things that bring us both joy and sorrow are the reason we live sometimes. Tolerance is something that we learn at home. Faith sent me a funny e-mail with quotes from kids. It was a list of short letters to God. This one struck me as particularly funny." Dear God, I bet it's very hard for you to love all of everybody in the whole world. There are only 4 people in our family and I can never do it. -Nancy." It is true that it is easier to get along at some times than others, but in a world that can be quite cruel, how can you measure the value of having your friends and loved ones to count on and to be there for in time of need. It is a blessing that counts but can't be measured. That knowledge can bring us joy when it seems like there is none to be found otherwise. Count on it.

March 9, 2005
I am weary this morning but I had a great afternoon and evening with Sara. I have a to do list to help me get some new CD's done and make some changes in how I promote them on the Internet. But mostly I just enjoyed the time. It is good to share time and feelings. I would change more than a few things if given the chance. I would just undo damage done through ignorance most of all. But life doesn't work that way. If we are lucky we have loved ones who can accept our human short falls and love us any way. It is still good to help each other grow by pointing us in the right direction if we have lost our way. Yet we all ultimately chose our own paths and therefore are responsible for our own destinies. Still, whenever possible, we should mend as many fences as we can along the way.
We make a living by what we get, we make a life by what we give.

March 8, 2005
It is another lovely spring day. I got a call from an old friend, Bill "Mac" McDaniels over the weekend. That was a kick in the pants. It is always good to hear from old friends. Bill says they are having our weather down there in San Diego. He keeps saying he is going to stop in to see us some time. We will see, it would be nice. I got a note from my friend Randy Fickel in Ohio and it was good to hear from him as well. His picture is further down the page. Chani and Chris will be making a trip down this way some time and I am looking forward to seeing them. Sara and I are hooking up today to talk over prospects for video and music projects and to just spend some time together. Freedom is coming to town this weekend to play at the Jet Deck in Everett on Sunday night. Josh will playing at that show too. I will be there, please come down. I was just checking out the web site of Erik Helmersen, a friend and young singer song writer. He is working hard and developing his site. As time goes by it gets better and better. He is a huge Dave Matthews fan. Check him out. He has wanted to sing Love is Kind and I hope to get together with him soon and teach him the tune.
Martha Stewart is back. I bet she is one happy camper and I am sure she went straight to her own kitchen and whipped up something good to eat the minute she got home. Life throws us some curves. There is still a huge gender gap in the work place. Crooked male coaches get million dollar settlements and Martha gets jail for something I believe men do every day in the market place. But that is my opinion and I don't lose any sleep over it. Keep smiling because like Phyllis Diller said, "A smile is a curve that sets everything straight."


March 7, 2005
Welcome to a new week. Spring is definitely visible in the budding foliage around our house. The unseasonably warm weather has led the cherry blossoms to come out and display their beautiful shades of pink colored petals. It is a time of renewal and new beginnings. Speaking of new beginnings, I was looking at Kayden's baby desert boots on the dresser yesterday and I got a bit emotional at the thought of a little grand baby coming. Little tiny baby clothes are so cute. I was grateful for the happy moment. I have far too many of the other kind. Life is an adventure and I do believe we get what we need, or perhaps it would be better put to say, we can make what we need out of what we get.
Act as if you are already happy and that will tend to make you happy. Dale Carnegie

March 6, 2005
We had an earthquake this morning at 5:30. It woke us up and rattled the dishes. Liz's bed rocked back and forth. It was a whopping 2.9 on the Richter Scale and it was just Northeast of us. I can't imagine what a big one would be like. I am working in the studio this morning. I was singing away on this passionate ballad and I yawned right in the middle of a verse. I started laughing and thought what the heck was that? I watch our puppy getting older too and it is a hard thing. I love that little dog so much. It is nice to take a nap together. Most of our friends have big dogs and they have been known to poke fun at our baby. They are missing out on the snuggle part of a small animal. Of course they don't have to worry about stepping on their puppies. But they would have a hard time carrying their golden retrievers and German shepherds around like babies. I believe I have turned out to be a big sap in my old age. It is all good though now that I am finally going to be a grand papa.
Ignorance: the gift that keeps on giving.

March 4, 2005
I love to laugh. There are times when things get really grim that my sense of humor really kicks into gear. I guess it is that survival reflex we all have. I remember when Chani got her arm broken and she was in the emergency room getting tortured by the doctor there. Inside I was distraught but we were all laughing at the ridiculous things I was saying to lighten the burden of seeing our daughter in such incredible pain. I also remember being back east when my mother passed away. We were sharing a hotel room and we were all grief stricken and exhausted by the suddenness of it all. Once again I had all of us rolling on the floor. The funny thing is that I can never remember what I say, or even what I was talking about at the time. I think it is a Zen moment. When there is no answer to the situation and the pain is unbearable, humor kicks in as a release valve so we do not explode. Thank God for laughter.
A person without humor is like a car without shock absorbers.

March 3, 2005
Josh and Christina showed up last night. The property they live on in Oregon was being fumigated and they fled the fumes for our house. Josh had recorded some guitar tracks which I put on CD for him and me last night. It was a pleasant visit and they both look great. Liz and Christina spent some time bonding while Josh and I were in the studio listening to his songs.
We are going to be grandparents twice this year. Andie is so excited when she heard the news she got teary eyed and said I want those babies here now! She is such a love. In her shop she sees all ages of life and has watched many people grow old and pass on. I think she gets a time lapse picture of life passing through her doors and it helps her to see life with more appreciation and clarity. She really understands the joy of giving. She is loved by a lot of people and it is easy to see why. I am looking forward to our next get away.
The time to relax is when you don't have time for it. Sydney J. Harris
March 2, 2005
Where does the time go? I know before we know it Kayden will be here in the open air with our little family that still remains at home. Andie is very excited. She is enthusiastic enough for all three of us. She is thrilled with the 6 kittens we have at the moment. I wish I could still get excited about things like kitties.
Manolito sent me an e-mail and he is home from the hospital. How about that? I was very glad to hear he is doing great. Jimmy sent me an e-mail and he is Utah skiing for four days. Poor baby. Christopher Nichols, guitarist for the Penguins, is coming to the studio on Saturday. I am looking forward to that time. The weekends go by fast playing and working in the studio. The weeks go by fast for that matter.
I stumbled on some fun pictures from Florida yesterday. They were pictures of the Murat and Fickel pirate ship adventure. That Fickel fun has carried over through the whole year. Here is a little picture of Randy and his daughter, Aileen. Keep in touch with your friends and let them know you care and that you think about them. Sometimes those kind of messages are just what we need to get us through the day.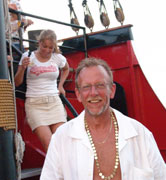 Aileen and Randy Fickel

March 1, 2005
A new month begins. I got an e-mail from Sarah encouraging me to get some tracks to her to show what we can do at Silent T Studios. She has such ambition and drive. It really does inspire me. I have been good about working in the studio nearly every day. I used to do that all the time, but for some reason ( and I am not sure when it started) I wasn't doing much in the studio at all. It was good working with Bill Spies on his very positive music. There was a lot going on with Freedom and Rob Peebler was doing projects here until he got his studio set up. Music is so simple and so complex at the same time. I am really thinking about these songs we are recording and asking what is the best way to share this music. What is the best way to put it out to the world. Make it real, that is the main thing. Make in fun. Make it good. It is happening and yet it is surprising how long it takes to finish. It could go forever.
Here is an update on our brother Manolito Fuentes. He is doing well and should be home from the hospital this week. I am anxious for him to heal up and get back to the studio. Scott MacGougan and I were talking about what a great player he is.
Welcome to March. May it be safe and fulfilling.
All contents Andie Murat and Greg Murat ©2003-2016 to infinity and beyond
All Rights Reserved
Greg Murat (mur-rah)
Singer-Songwriter Guitarist