Greg Murat (mur-rah)
Singer-Songwriter Guitarist
Home Shows Bio Music Lyrics Poetry Video Audio

Light Hearted Latin Jazzy Reggae Pop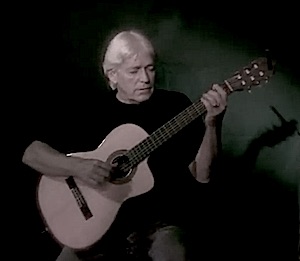 Photo clip from video by Mike Daily
When we were in LA at the Taxi songwriter's rally
I felt like I took a beating when Cool Wind From Jamaica
was picked at random for critique. I did get some applause
at the chorus. I believe the quality of the recording caused
the panel to over ride the audience and let it play even
though tons of hands were raised signaling to stop the
song. I was, in retrospect, perhaps a bit over sensitive.
Later that night, when my name was picked out of the
hat to play at the open mike , I decided to do this song
fresh with a new bridge I had written that day. It brought
me back to what music is all about and I hoped it
would do the same for some of my songwriting associates.
Several people told me hearing this song was worth the
trip to LA. I learned a lot at that convention and
toughened up my bark a bit too.
Let's Stay Friends Forever
Let's stay friends forever
Let the music play
Sheltered in the songs we share
Our cares just slip away
Melody and harmony
I feel like I can fly
Let's stay friends forever
You and I
Music is the ways and means
We share each other's souls
It seems to make life easier
As down the road we go
I believe when the singer sings
The singer owns the song
So count to four and play the chords
And I will sing along
Let's stay friends forever
Let the music play
Sheltered in the songs we share
Our cares just slip away
Melody and harmony
I feel like I can fly
Let's stay friends forever
You and I
We can make time stand still
I can show you how
The present past and future
Are always here and now
So open up your hear my friend
And let the music in
And we'll relive this moment
Time and time again
Let's stay friends forever
Let the music play
Sheltered in the songs we share
Our cares just slip away
Melody and harmony
I feel like I can fly
Let's stay friends forever
You and I
Good friends and good music
Need never go away
I'll meet you here inside this song
Every time it plays
So if you're feeling weary
Like you can't go on
To find yourself just lose yourself
In the meaning of a song
When you're lost and lonely
So very much alone
Just listen to the melody
And let the music take you home

Let's stay friends forever
Let the music play
Sheltered in the songs we share
Our cares just slip away
Melody and harmony
I feel like I can fly
Let's stay friends forever
You and I
Let's stay friends forever
You and I
Written by Greg Murat©1997
Publishing rights Spare Change Music (BMI)
All rights reserved
Greg Andie Schedule History CDs Photos Lyrics Poetry Flash Poem Journal

All contents ©2003-2017 Andie Murat and Greg Murat All Rights Reserved