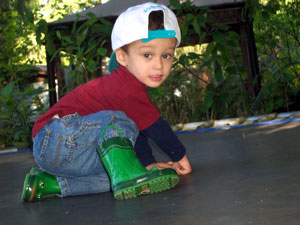 Kayden finds a hole in the trampoline
Time and Tides

Time and tides come and go
Sometimes fast and sometimes slow
Still they slip past the heavens know
And leave us where we're standing

Soft sand sifts between our toes
Break out buckets, rakes and hoes
Like sand castles are we I suppose
Caught collapsing or expanding

I cast off aches and pains from me
I command my eyes to clearly see
A voice inside says let it be
And is no less demanding

Time and tides carry us away
Wash away dreams or bid them stay
As all good things come to us today
Thus we are commanding

Love both conquers and divides
I am grateful for the time and tides

July 26, 2007
---

The Family Tree
One two three four five six seven
Where does the time and tide go
Into and out of life in and out of heaven
All to learn what we already know
The answers come to those who seek
The strong ones are not necessarily strong
Nor are the weak ones weak
There is untold power in a heartfelt song
The power to let or make it be
It is fine line between right and wrong
Sometimes the blind can only see
This colorful cacophony of souls
Is best of the best there is indeed
To toss to hug to have to hold
Forevermore the richest of the rich
Whole, perfect as the tale is told
There is not one that I would switch
Bring it on and let it be
Shade me with my family tree
July 1, 2007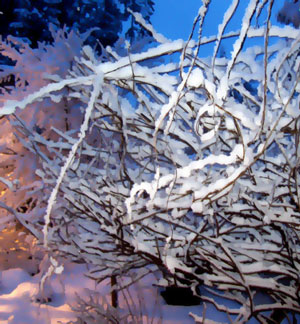 June 1st Rhyme
It takes deep mining to find a gem
The past is for letting go so we can begin again
Summer is slipping in like a lover into bed
Seasons seem to say what they've always said
Change change change for change is good
Just be here. I am I can and so you could
Be present in this moment for here is where we are
The same energy that is in us is in a distant star
Seamless eternal simple life flows through us all
We can do and have and be anything that we call
Into our life with faith and gratitude
Let's celebrate life with our attitude
And as we lay down to sleep when each day is done
We'll replay it in a happy way so that in the end it's fun

June 1, 2007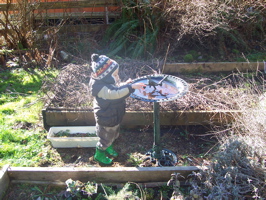 Remember
Always remember to remember
How we arrived at this place
Those who paved a path for us and them
With sacrifice and grace. In a time
When honor held and had not lost its face
Bravery and honesty were ways of life
Peace our most precious gem
They fought for freedom and the dove
For hand in hand in hand to stand
Upon this land we love

This road we chose
In joy and in strife
Where Freedom never falters
Where love calls us to life
The earth our only alters

See a day when we throw away
The bomb, the gun, the knife and
Seek in souls the ever common good
Embrace this entire human race
In sister and in brotherhood

See through someone else's eyes
Stand in someone else's shoes
More spirit filled than worldly wise
The price more than just dues

All land is hallowed ground
Let's sing a song of the world at peace
May all fearful fitful fighting cease
And tranquility resound

January through December
Remember to remember
The lessons that the past can teach
Freedom bought upon a beach
I see the world at peace
And pray it can be found
May 27, 2007

---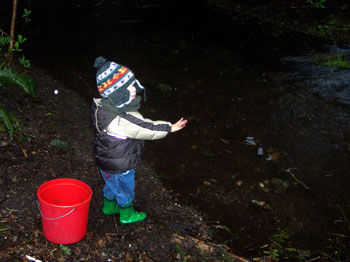 On Love

You can't weigh love by pound or ounce
But I see it my little boy's bounce
And feel it good when with a pounce
He lands on my chest with a lion's roar
Or when he runs into my arms
No sirens heard no false alarms
Only the wonder and the charms
Of love and knowing what it's for
In my heart I have songs to sing
Laughter to share and joy to bring
Abundance now that is the thing
I am feeling more and more
Solid now, no more defector
Steady on this course and vector
I am strong and the protector
Love is not a chore
It can build a bride or hold a levy
Push you on that long last mile
Lighten up a load that's heavy
And show sorrow how to smile
As I grow young from old
I wouldn't trade love for gold
When all is said and all is told
Love has cleared my trail
Mile by mile by mile
And made the telling of the tail
Worthwhile

May 11, 2007
---


Renewal

Breathe deep
Mind your attitude
Peace keep
Feel the gratitude
Foremost in your heart and mind
Make a list
Mark it well
Fill it with this
Tales to tell
Blessings tallied
Those who've rallied
To support you in your time of need
Those who have stood upon your back
So you could help in times of lack
To see that they succeed
Leave lost loves unfaithful
Seek those who would be grateful
Life is a timeless jewel
Seek ever more renewal
Seek ever more renewal

May 5, 2007

---
April 21, 2007
Rocks

Life has so many lessons to teach you
Some folks say hi when they greet you
A warm salutation to reach you
And make you feel home in your heart

Kayden can now put on his own socks
He hasn't grasped the concept of clocks
And when I come home and say hi, he says rocks
I just got home but it's time to depart

Time to put on his bright green frog boots
I watch as down the back steps he scoots
Off at a run as he howls and he hoots
Rocks rocks rocks
I smile a smile that stretches both cheeks
And head out close behind as he seeks
The wonder that all boys find in creeks
And rocks, rocks, rocks.

April 9, 2007

Where does it end?
We take to task each and every day
Some do more and some do less
As best we can we make our way
Some paths are clearer I confess
Some clean more
Some make more mess

Still I wonder as I wander
Through free and floating thought
Sit still so as to ponder
Lessons learned that I forgot
Battles lost
Best left unfought

And I look out on the fence
That so sorely needs a mend
The weight of living gets more dense
Loads are lessons with a friend
Weathering, wondering
Where does it end?

April 2, 2007

Whoosh

Whoosh!
That is how fast things can change
Hush and listen to the wind and hear
The message calling you to change
Just a certain time when chance is near
Time is short and will timely prove
If you want to make a change
Make a move
Still, be still when chance arrives
The one who listens
Is one who survives
Lost dreams are like knives
Sun on new hope glistens
Happy is the one who listens
To Spirit filled facts
Happy is the one who listens
To his heart and acts
April 1, 2007
Ripples

Words whirl in the water
Rocks splash and spread joy
With ripples rolling
Ever outward bringing peace
To the boys,
One grown,
One growing
Searching
Hoping
Loving
Knowing
Our lives are ripples
In time
Sometimes sweet
Very fine
March 24, 2007
Real Riches
When shadows fall and we walk the dark
We find our way and don't lose heart
We took the time to build the ark
That is our family
We lived and learned and understood
That often bad comes with good
We held our own where we stood
We can plainly see
We have more friends than we can mention
Actions wrought with good intention
We could call a love convention
And then let it be
Life with all its quirks and glitches
Tosses, turns and all its hitches
Shows us that the richest riches
Are friends and family
We are rich both you and me
---
March 1, 2007
Thinking
I was thinking
About the days gone by
I was thinking about the love we tried
I was thinking about the pearly past
I was thinking how love never used to last

Then my thoughts all fled from blue
To a better place where love is true
To a pleasant smile on a happy face
Candles light a bed dressed in lace
Love so tender and so rare
I can always find it there
chorus
I was thinking how much I love you
I was thinking I'd have to be crazy
To ever let you go.

I was thinking about you in arms
I was feeling so safe from any harm
So say another day might just find me
In another place the past behind me
I know that I would go anywhere
If I can reach out and find you there
I am right where I want to stay
If I can wake up with you every day

chorus
I was thinking how much I love you
I was thinking I'd have to be crazy
To ever let you go.
Not matter where my mind may stray
It will go very far away
My heart will tell what to do
The soul mate of my life is you
The truth's the truth what can I say
I want to be with your every single day
A brand new start's just round the bend
Me and you, my lover and my friend

chorus
I was thinking how much I love you
I was thinking I'd have to be crazy
To ever let you go

I was thinking about family
Full circle you and me
Ring around the family tree
Bring on the love
Let it be
Let it be
Let me love
Let me be light
Let our lights shine
into the dark night
Do it now don't hesitate
Let your love be
Before it's too late
Set it free
Set it free
Set it free

MP3 Written & Recorded March 1, 2007