Home Shows Bio Music Lyrics Poetry Video
October 12, 2014 So we live and so we die...
This is the day that our grand daughter passed away. It is also the day my Aunt Leta passed away.
October 12, 2014. Time. Tick tock. The days of our lives pass by like shadows. Just yesterday I was looking at sympathy cards in the post office. I asked myself why. Now I know. My Uncle John and Aunt Leta really loved each other. They were together more than 60 years. When her health put her in a nursing home he moved in with her to be by her side. His expression of love and zest for life have always been an inspiration. I can't imagine how his heart must feel with his true love having passed over. May need to go see him. He is the one who came up with the line Cool Wind From Jamaica. "You should write a song with that title he told me many years ago and I did. I love my Uncle John and Aunt Leta and hope she has peace and so will he.

Last night I remembered how fun it can be to play and sing with my friends. We mostly played with me singing the words to Rock Me, a song written by myself and Doug Hamilton a lifetime ago. Jimmy Culler, Michael Daily and I met up around 7 and played for over 3 hours. It was warm and funny and without stress. It felt good to visit old songs and learn something new. I still have too much pain in my wrists to play too often and too long. So slow to heal and kicked off by swimming wrong. Hah. So it goes.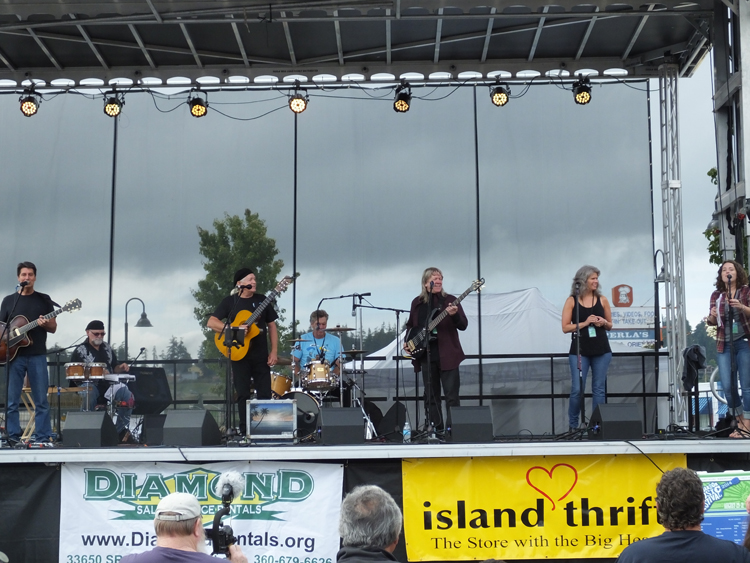 August 30, 2014
The Oak Harbor Music Festival was a wonderful thing. A chance to play with my dear friends and be a part of a joyful
gathering of good people in Oak Harbor. Larry and Cynthia Mason were the driving for a huge assembly of volunteers
who took part in this great gathering. The picture below is from the Tour de Terrace. We had a great time and Everett
Rock recorded our whole set and put it up on YouTube. It was good to see the faces of old and new friends and the
memories of the weekend will be with us forever.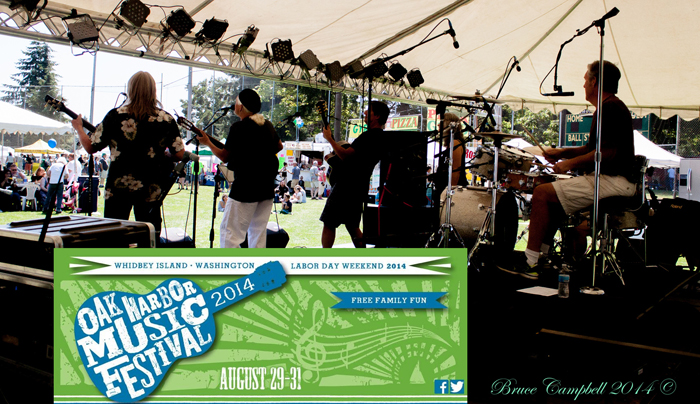 August 22, 2014
Friday night will have the wonderfully tasteful lead guitar of Mr. Scott MacGougan, the melodic and smooth groove bass
of Mr. Jimmy Culler, the joyfully inventive percussion of Mr. John Matthews and lots of harmony from Jimmy, Scott and
the lovely and talented Mrs. Debbie MacGougan.
Jimmy and Greg Murat play four short sets at The Bands of Ballinger show at the Niles Country Club.
Then it is back to the Wild Vine Bistro for Jimmy, John and Greg for another evening of music.
We know we have a great group of friends coming from long distances and that will include Linda and Keith Gallup.
The vivacious Dee will be dropping in both nights to dazzle the room with her soulful voice.
August 21, 2014
Don't make assumptions, but if you must assume, assume the best.
Part 1
Music is the great release, the healer. There are moments of peace performing music that don't exist in other times and space. It is a place of tranquility amid chaos. I find myself reflecting on Robin Williams departing the planet and think of those times when that idea is blasting in my face like a loop playing out of a stack of Marshall amps. Hopeless seems to loom like a shadow that blocks all light. That specter hovers in both sleeping and waking dreams. How to stay is the question? There are so many things we can all be grateful but the weight of depression bends souls to the point of breaking and the feeling anything but pain seems, is, impossible. Those are the times when reaching out is imperative. It is also the time when reaching out is most difficult. We are each precious and keeping that in our minds and hearts, when the internal prattle goes on and on, is vital. It is the point when just breathing is all that is possible. Just breathing can save your life by changing focus. Breath out and breath in. Repeat with intent and concentration. Go for a walk. Call a friend. Help someone else. Stay!
Part 2
The two most important lessons you can learn in life are:
1. How to say no to someone you love.
2. How to not feel bad for saying no to someone you love.
August 3, 2014
Home with the family. We have been outside today. I played in the pool with Kayden and Andie redeemed the trampoline from the winter mildew. Having a short pause for the cause and trying to fix things on this website. Ha ha. There are gremlins in here and they have been winning yesterday and today. Back to the sun while it is here.
August 1st, 2014

Images of broken light which shine before me
Like a million eyes and call me on and on
Across the universe
John Lennon
There was a grand gathering at the Wild Vine Bistro on July 31st as at pre birthday celebration of Bill Shanks birthday. Elaine Skeffington even did two songs with us. The Same Side of the Moon is one of my all time favorite songs and she sang it beautifully. It was extra special for me because Andie and Kayden was there for most of the evening. Jimmy Culler played and sang his heart out and John Matthews was tapping out the rhythm for the evening. Dale Antonsen played shaker and added so much to the evening. The joy of music is profound. It was sweet and soothing to the soul and the house was packed for most of the evening. The night was flowing
with the rhythm and melodies.

Sending out the love         Favorite Recording Studio- Studio 0 Four