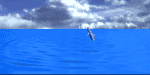 Snowfall on Cedars
A Very Happy 2012 to everyone!
January 16th, 2012
If we did all we were capable of doing, we would literally astonish ourselves. Thomas Edison

So we have finally got a winter out there. The ground is covered with ice and snow. It is beautiful. I have left my car parked in town since Saturday as I could not drive it home in this mess. We have had a nice few days here, just Andie, Kayden and I. Chani and Dana visited for a brief few minutes and that was a treat. Now Kayden is snoozing, Andie is reading and I am catching up on some music ideas. I watched several versions of Sting's Fragile today. It was entertaining and very informative, humorous at times but time well spent. I still don't know how to play it.
On Saturday I had a rehearsal for a show that was cancelled due to this weather. Volkert Volkersz, Greg Deer and Jeanne Whitney were present. That is the reason my car is stuck in town, I failed to flee when the snow started and kept playing music. I was very excited that at the American Folk Revival Benefit we were actually going to perform two of my songs, Give Us Free and Love is Kind. The guitars, the voices were beautiful. Greg has a voice not unlike Gordon Lightfoot but with more color and character. He was finger picking some high on the fret board parts that were very tasteful and Volkert was embellishing the songs with his parts as well. Jeanne was learning the words and figuring out harmony parts. Greg was excellent at picking harmonies. We were doing four part harmony on Where Have All the Flowers Gone and it was fun and lovely enough to make me ignore the snow fall. Oops.
I would like to thank God at this point for telling me to pull over as I was approaching the back road, winding, downhill way home. I ignored the first warning but then 50 feet later heard."Okay it is your choice just remember I warned you." I did a u-turn and parked and probably watched 40 cars turn around and head back into to town. Volkert gave me a ride home where I have remained since Saturday. Now it is Monday night I am listening to huge piles of snow fall off the cedars and hit the house and listening to the gloom and doom weather report that says 24 hours of snow on Wednesday. We shall see. Meanwhile I am going to try to think of something astonishing to do.

January 8th, 2012
You cannot control the length of your life,
But you can control its breadth, depth and height. Evan Esar

What a lovely birthday I had. It began with a loving morning with my bride and a dozen long stemmed roses. The day was leisurely as Andie went to work and Kayden and I played here at home. Faith wasn't feeling well so she didn't come out, Elizabeth and Chani were both working, so it was a very quiet day. We got a call from Scott and Debbie MacGougan and an invite to come down to Gig Harbor for a visit and to see Scott's new studio. Now we love a lot of people who are our friends but we tend to like to stay home. Scott has been there for me every time I call, he has shown up and played his heart and soul with a smile on his face. We went to Gig Harbor.
On the way we stopped at a Chinese Restaurant in Bellevue, Cafe Ori. Just go there if you can as the food is traditional and wonderful. That is what I wanted for my birthday; a visit to the restaurant that my friend Frank introduced me too. They made spaghetti noodles for Kayden but he ended up eating most of the noodles and all of the prawns from my soup. It was delicious.
We showed up at Scott and Deb's about 8pm and only moments passed before Scott and I were busy playing in the studio. First Kayden politely asked if he could play the drums and he had a ball.
The studio has a nice large control room with a futon couch and 3 panel window looking out on the main room and vocal/drum booth. There is a beautiful grand piano and lots of instruments hanging on the wall. It made me so happy to see Scott have such an elegant and comfortable space to record. He is running Logic Pro on a monster Mac Tower. The samples are incredible. The Steinway was a Steinway. We stayed up way to late and had far too much fun. After he returned from Church this morning we were right back in the studio. Andie knew that playing in the studio with Scott would be my idea of a party and it all fell into place. It was grand.
Scott has written some very nice tunes and laid down a few in the new studio. I attempted to sing one and I was a great source of entertainment for Debra Ann as I stumbled over the melody. You see if life seems pointless it is not. You can always be some sort of example. I was glad to see her laughing, I think.
On the way home we drove around to Poulsbo in hopes of surprising Andie's cousin Bri but we missed her and ended up taking the ferry to Edmonds and then going out to dinner in Everett.
Now Andie is reading to Kayden and I am preparing to catch up on on line work.
I am so grateful for all the kindness I was show on Facebook from so many people. Thank you all so much.
That is it. Time for sleep. I got old when I wasn't looking.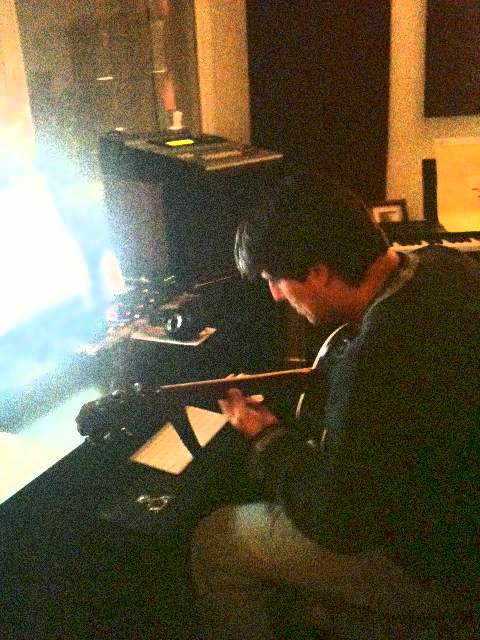 Scott playing for God

January 5th, 2012
Friday night driving back from Michael Daily's studio, cruising along Lake Stevens, I saw an owl beside the road. It was just sitting there. I stopped fearing it was wounded and I backed up slowly. I saw deep into its eyes when passing it and once again as I backed up and pulled off the road. I was wondering who do you call at midnight regarding a wounded owl? I thought I had to do something. Just as I eased my car up to it it appeared to split in two and one half flew up into the air. The other half sat still and then took off ropping. Ha, the running hop and bobbing white poof of a tail made me realize it was a rabbit. Now I suppose I owe the owl a meal but I apparently saved a rabbit"s life. What does it mean grasshopper?
The funny thing is as I look back over the incident I remember wondering what kind of creature was sitting in the road. It looked like a large fat cat but with a foot. It was all shadows until I drove right up to it. So the illusion was very strong that I was looking at a severely wounded owl with what appeared to be a wing lying at on the ground. Even when it spread two wings and flew into the air the illusion continued. The rabbit just lay there for a second or too as surprised as I was and then it bolted for freedom. What a sight.
January 4th, 2012 Happy Birthday Freedom
Happiness is a thing to be practiced like a violin. John Lubback

So this day many moons ago my son Aaron was born in a log cabin on Sky Meadows Farm near Monroe Washington. It seems like forever and a minute ago. Now he is a minstrel singer and weaver of tales bound to travel the globe sharing the power of music.
It is a new day and the cold winter rain washes the air clean and a new song is waiting as the movie continues.


January 3rd, 2012
Happy Birthday Rob.
I will heading over to Mike's studio tonight and thinking of Rob. It will be fun to go in there together when he gets back so we can lay down some acoustic stuff. I am feeling the call of the unplugged sound. My ears hurt like hell after the playing Saturday night. I can't really remember the last time I woke up with tinnitis. Getting old I guess. We needed a big stage and sound man.. It seemed like nothing went right but there was a lot of smiling faces and that was the point of the evening, the love. It was a very good turn out and we had Ron Llinas on guitar and vocals for a good part of the evening. Jamie Phalen, formerly of Smokin' Gun and currently member of Ramblin' Band, an Allman Brothers cover band was holding up more than half of the BB's (Banana Brothers) The ladies all looked beautiful, Andie, Becki and Tammy all dressed up and ready to have fun. I am very grateful for the turn out and all the good people who brought in the new year with us. May this be the best so far and getting better each year here after. I love the joy of making music like I love traveling. I like arriving when I travel, the trip not so much. I love playing but all that leads up to the performance, not so much.
So what have I learned in the last year. Some interesting things I think. Every thing I read and all the CD's I listen to say define your dreams, figure out what you want to do and do it. That is the ticket then, isn't it. We can do anything if we can believe it. Peter walked on water for a second until he thought, "Crap I am walking on water. I can't walk on water!" and he immediately began to sink. If you think you can, you can. If you think you can't you can't. And on and on it goes. What I think is this, just getting a grip on the thinking part is the challenge. I heard thoughts described as energy. We have a ball of negative energy and a ball of positive energy. Such is life. The point is to make the ball of positive energy bigger than the negative. This is good.
So if you figure out how to do that please e-mail me at greg@gregmurat.com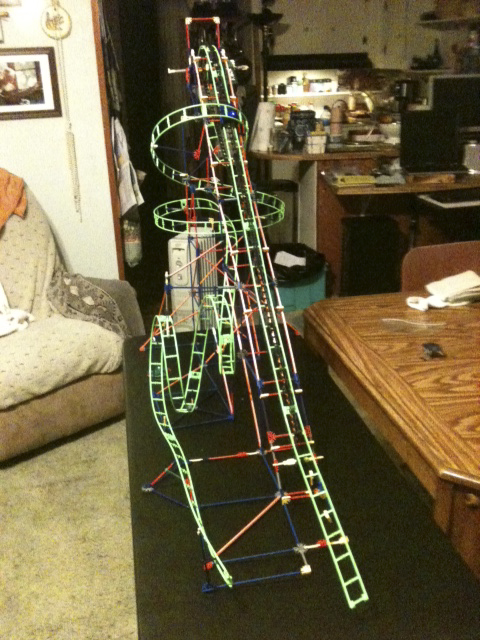 Andie is a genius


January 2, 2012

Adventure is worthwhile in itself. Amelia Earhart
The new year washes in on a down pour of northwest rain as if that were a surprise.
Andie spent 6 hours putting together a roller coaster for Kayden. She finished at 10:30 and he was still awake and sneaking peaks around the corner. Hopefully he is sleeping now. The wind is roaring like a locomotive outside. It is nice to have a roof over our heads and shelter from the storm. It is good to have family and friends and be alive in this time just as we are supposed to be. It is a new dawn I believe and there will be some soul shaking going on. I think I just heard a limb crack outside.
And the day turns to night and a new day begins.

---
December 29, 2011
Where is the time in a day? I look for work on line,I Facebook, play with Kayden, walk in circles very fast for exercise and then it is evening again.

Last night Kayden was taking a bath and I sat on the stool and played my guitar. I often do that but this time he said, "This is just the worstest time for you to play guitar."
I asked why and he said "Because you can't hear me when you do." I put down the guitar.

For some reason he did an imitation of my voice saying "Do it!" and it was quite high pitched. I said that I don't sound like that. I picked up my guitar and sang "Do it. Do it! Do it" in my lowest voice. He chimed right in with a very high soprano harmony "Do it. Do. Do it."
I said "Hey, I don't sound like that!" and we both laughed. We played that game and song until we were both laughed out and it was time to get out of the bath.

Simple pleasures.
December 2, 2011
I haven't written in so long I may have forgotten how. But maybe not. I love to feel the energy flow to the page through me fingertips in the same way I love to hear notes coming from my guitar. I just about crashed the plane in the last few months. It is funny how the mind works, or doesn't, when you don't get enough sleep. Traditionally for me that has been about 4 hours and a good sleep is 6 (almost never). Still as the years pass the idea of sleep gains appeal so I feel like I am missing something but not being asleep. Ha is that ever a shift. I just wasted a bunch of time trying to find this picture of Chani I keep finding and losing again. No luck. For now I think that is the extent of my energy tonight. I know. I know. It is hard to get so much info in so little time. Strike that reverse it. I will be back.
Gratitude
Sending out the love