It is difficult to find the words to express the gratitude I feel towards my friends and fellow musicians. There are so many who have poured their hearts and souls into this music over the years. The troop that is with me at this time is a group of talented, amazing and giving people. I am also humbly grateful for the fans. You are family to me. You come out and bring your love and spirit and it lifts us all higher. You have kept me going when nothing else felt like it could. We heal each other. Thank you.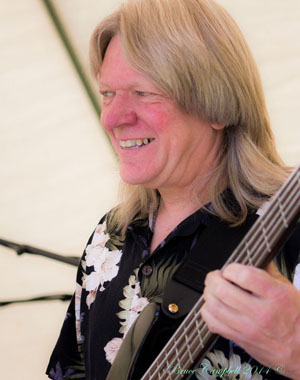 Jimmy Culler-Bass and Vocals
Jimmy is a melodic bassist who has played
with Papa G for decades while playing with
many fine groups as well. He knows this
music like no one else and adds his signature
bass lines to many of the tunes.
Jimmy Culler has been there playing bass at every opportunity since Ricardo's, Provinces, Sailor's Taste of Edmonds and a long list of venues over the years. He has blossomed into a sought after musician yet continues to be there for and believe in this music. He unflinchingly drives down from Arlington every Monday that we have the chance to gather at Mike Daily's studio.
I am so withdrawn from people as a result of PTSD that this is a source of therapy to me and all of us in many ways. Many are the nights that Jimmy and I have spent playing music and laughing deliriously for hours. He has been a friend and brother all these years and seen me through a ridiculous array of changes. He is an outdoors man, a river guide, a skydiver, one of those guys who knows all about mushrooms and a list too long to mention. I am grateful he continues to share time and music with me.

Mike Daily-Drums-Vocals
Mr Daily is the owner operator of Studio 0 Four
recording studio and a member of many bands.
His is fine drummer, singer, engineer, producer
and a great guy .
MIke Daily is a very dedicated musician, always striving to grow and expand his talents as a musician and an engineer. He has created a very fine studio in Marysville. He expands his knowledge and gear on an ongoing basis. The Hear Back system is such a treat to work with when practicing or recording. Taking the time to get a customizable mix in the headphones leads to instant therapeutic bliss. He has multiple ongoing projects as well as our weekly Mondays as time and health permits. He is very good at completing projects and releasing CD's. I am the thorn in his paw as I don't seem to be able to finish anything. God bless him for his dedication and patience. Check out the studio Studio 0 Four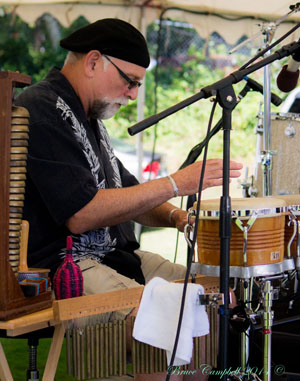 John Matthews-Percussion
John is joy filled percussionist who is from Oak
Harbor and has played in numerous groups and
brings a happy spirit to the music.

John is another member of the group who makes the long trek from Kirkland to gather and play music for 3 hours on Mondays whenever we can. It has been a joy to watch him grow and see him feel appreciation and support for his talent. It is very busy in that brain I imagine and for he has lots of ideas. He always brings a treasure trove of toys to shake, rattle or hit. Through it all he brings a thoughtfulness and caring for the music that is inspirational. He is also a very good friend and very conscientious about checking in on my family and me when we are having a rough go. I am grateful for the support and the love he brings to the music and life.